ABA Therapy in Gurgaon
ABA therapy in Gurgaon is a service given by the specialists to treat the autistic children. Many children in India who feel difficulty in expressing their needs because of development delays. To improve these delays, the ABA therapy clinic in Gurgaon uses this therapy. This intensive therapy focuses on the principles and techniques of learning theory to help the child's social and communication skills. ABA therapy is the only effective method that can improve the child's language, social, and problem behaviours. It is a scientifically validated approach that can be tailored as per the needs of the child. At Blooming words, we have a team of experienced and talented specialists who interact with your child to make observations about the behaviour, learning skills, and communication level. So, if you want us to improve your child's cognitive behaviour, get in touch with us right now.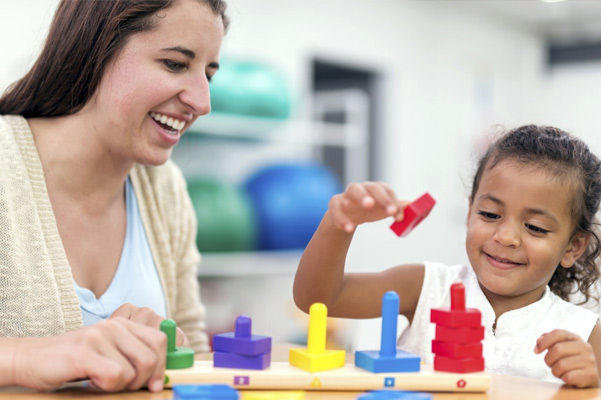 ABA Therapy Clinic in Gurgaon
Blooming Words is a leading ABA therapy clinic in Gurgaon, which is well-known for its proven successful treatments. We have a team of highly talented specialists who know how to deal with the children and improve their language and behaviour skills. Since we launched our clinic, we have provided the best ABA therapy Gurgaon services to the children at the cost-effective plans. To cater to each child's demand, we assess every child independently, evaluate his behaviour, and then create a therapy program for him. If you are seeking the renowned and reputed ABA therapy in Gurgaon, then get in touch with us. We provide you with a highly customized and personalized plan that will help children improve their social, language,and communication disorders.
If your child screams when eating, unable to read or speak the words clearly, face struggle in new things, then you should opt for the ABA therapy in Gurgaon. These are the symptoms of autism, that will become worse by time. Early intervention must overcome autism' symptoms.
Blooming Words is the only ABA therapy clinic in Gurgaon that is specially designed only for children suffering from development delays. We understand the pain points of every special child. To help them in the best possible way, we offer them a quality ABA therapy Gurgaon program. It is a flexible program that can be tailored as per the needs of the child. So, if you think your child needs some special attention, then Blooming is the one-stop solution for you.
ABA Therapy Center in Gurgaon
Are you looking for the reliable ABA therapy center in Gurgaon? If yes, then your search ends here. Blooming is one of the top ABA therapy in Gurgaon which is round the clock available to help your child. We have a team of highly experienced, child-friendly specialists who know how to deal with the special child and improve his/her confidence. During the sessions, we closely monitor every child and create the report to evaluate their performance. If you seek the best ABA therapy in Gurgaon, then take our assessment appointment. In this assessment, we assess your child to identify his behaviour, language,and social problems. Once we analyze his development delays, we create a plan that suits his/her needs. We encourage their parents to participate and cooperate with us because they are the only closest children.
One of the significant reasons to choose ABA therapy in Gurgaon is that it systematically looks at learning basics. Our therapists create an enjoyable, and fun environment for the children to learn everything effortlessly. The level of professionalism and concern and caring nature you will see in our therapist will make you ensure that your child will become a smart child.
We understand your child wants to play, study, talk, walk and learn like others do. Don't worry; Blooming Words has the best ABA therapy in Gurgaon that will make everything easier for him. By the end of the sessions, he is able to learn and carry things effortlessly.
Blooming Words is the place where qualified, trained, and experienced behaviour analysts designs and directly oversees' child's intervention.
Frequently Asked Questions:
Ans. This therapy is designed to emphasize skills that enable learners to become confident and smart now and for life. The instruction plan will be broken into smaller parts that will become easier for the children to learn things.
Ans. We request you to bring your child who needs the treatment and his school and medical reports.
Ans. Our specialists use various proven behaviour techniques, and other entertainment media resources like movies, songs, and animated videos to improve his learning skills.