Speech Therapy in Delhi
Speech therapy is the most effective treatment to cure the verbal disabilities of the child and adults. This therapy plays a crucial role in treating speech, language, and communication problems. Depending on the complexity of the disorder, a speech therapy in Delhi offers you the treatment.
With physical exercises and other engaging and effective activities, the therapists help children to become independent communicators. As professional speech therapy in Delhi service providers, we know the pain of the children who cannot convey their thoughts because of the speech disorder. If you subject your children, speech development is not on the right track, consult with the best speech therapy centre in Delhi without thinking much.
We are qualified speech therapists with several years of experience in treating speech disorders. We work alongside parents/guardians to strengthen the treatment of the child. To make children comfortable in therapy sessions, we use fun, interesting, and motivating activities.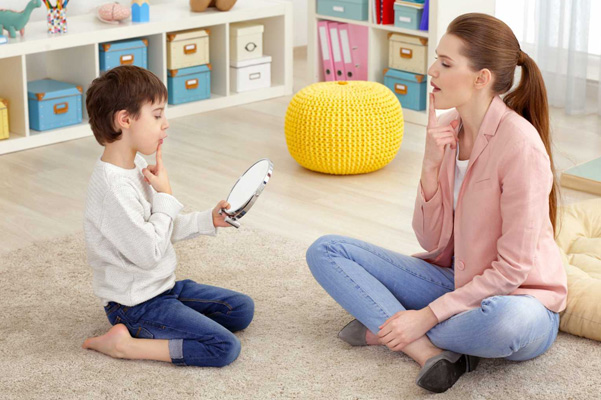 Speech Therapy Clinic in Delhi
Knowing your child has a speech disorder may feel you overwhelming. And consulting with the best Speech therapy clinic in Delhi is a good step. Blooming words is a leading speech centre that works with the children and puts them in a comfort zone so that they can easily adapt to therapy sessions. We created Blooming Words we desire to provide extensive care for the children who have speech and language disorders.
We believe that every child has limitless potential. All need to nurture their abilities. And we believe that these abilities can be nurtured and developed by using fun, creative, and engaging speech therapy sessions. We don't believe a white apron, and the emergency room is necessary to cure speech therapy symptoms. We can also cure speech deficiencies with supportive, quality speech therapy in Delhi Service and interesting activities.
Our speech therapy centre in Delhi deals with all kinds of speech, language, voice, and autism disorders. We have a team of qualified and talented therapists who evaluate the child's condition and then design the treatment that meets his/her requirements.
We know your child, and you want a comfortable and welcoming environment. Blooming words are associated with positive vibes, fun, and child-friendly therapists. We assure you that after one and two therapy sessions, your child will start gaining confidence in speaking and become the best version of himself/ herself.
The children who come to our speech therapy clinic in Delhi will definitely succeed in finding their voice. They will succeed in everything, right from speaking, sharing ideas, listening, to dressing. The kind of confidence they will gain from Blooming Words will change their life forever.
Speech Therapy Centre in Delhi
Blooming Words help children who cannot produce speech sound clearly. When you visit our speech therapy centre in Delhi, we offer you face to face interaction to know everything about your child. In the primary evaluation, we identify areas and design the treatment by considering the concern, behavioural observation, and background information. As a key member of the team, the parents, and guardians can maximize the speech therapy in Delhi sessions by sharing every small detail about the child. It helps therapists in developing action plans to achieve goals.
So, if you are looking for the renowned and reputed speech therapist in Delhi you can get in touch with us from the comfort of your own home via laptop and mobile.
At Blooming Words, we endeavour to treat every child with a multidisciplinary family-centred approach. We coordinate with the family, teachers, and guardians to provide the best outcomes for our patients to live a more rich and happy lifestyle.
Meet our Speech Therapists
Blooming Words have a team of experienced and child-friendly therapists who use motivating, and fun activities to encourage children to learn things, capture their interest, and build self-esteem.
Our therapists treat speech disorders through:
● Full assessment and monitoring of child behaviour.
● Tailored speech therapy sessions
● Written programs and activities for parents/ school staff
● Analysis of the behavior to check the improvement.
Frequently Asked Questions
Ans. If you suspect the speech disorders in your child and are looking for the best speech therapists we recommend contacting Blooming Words. Our experienced therapists are expert in the assessment and treatment of children with speech and language deficits.
Ans. At Blooming Words, therapists love working with children; they believe that by providing a home and relaxing environment to the children, they will find their voice. Our therapist has the deepest hope and desire to help your child so that he can greet everyone with open arms, smile, and a clear voice. Our speech therapy in Delhi sessions are evidence based which are designed by the qualified therapists.
Ans. As a leading and the most suitable speech therapy in Delhi centre, Blooming Words enables its clients to contact them via phone, email, or even come to the clinic to share concerns and difficulties regarding their child speech disorder.