Speech Therapy in Noida
Many conditions like developmental delays, autism, hearing loss, and cerebral palsy can create speech development difficulties. Children who suffer from any of these diseases will face difficulties in speaking and listening. They are unable to share their thoughts and express ideas and feel very low and under confident. For them, speech therapy in Noida is a life-changing treatment. It is the process of evaluating and treating speech. In speech therapy, specialists use various interactive techniques to improve speech disorders. If your child cannot communicate effectively, you should definitely get in touch with the best speech therapy centre in Noida.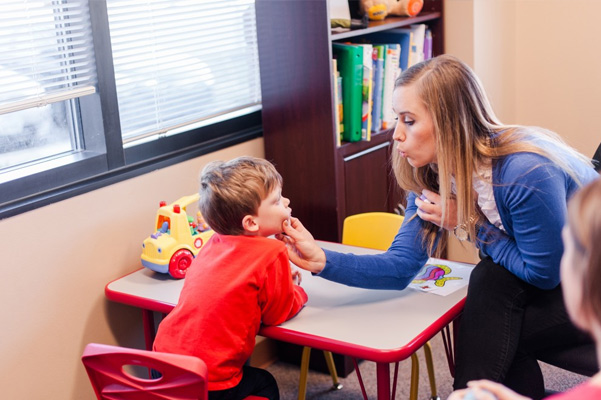 Speech Therapy Clinic in Noida
At, Blooming Words, we have a team of highly experienced and qualified therapists who know how to improve the children's communication. Our speech therapy service is an intervention service that focuses on improving a child's speech and abilities to understand and express language.
Our therapists take every child's needs as a challenge and fulfill it successfully. They are fully committed to treat every child with full delicacy, care and integrity. For us, making a special child a confident one is the sole purpose. Whether your child has an articulation disorder, fluency disorder, or voice disorder, we will efficiently treat all kinds of special disorders. So, if you are seeking special therapy in Noida, then get in touch with us. Blooming Words is where we treat all kinds of developmental disorders by providing creative, unique, and effective techniques. We create sessions either in group or 1:1 to help make their communication effective. Right from correcting the sounds to improving the vocabulary and grammar, we will work on everything.
Speech therapy is a clinical approach which is aimed to improve the speech disorders of the children. Don't send your child to a rehabilitation center for improving their cognitive abilities. They are delicate children that require a special kind of attention which is only provided by the therapists who know how to deal with a child with extra care. They live with the children like their friends and offer them a comfortable experience that helps them learn and catch things quickly. If you want Blooming Words to improve your child's communication, get in touch with us. We are a leading speech therapy in Noida, that offer you the best-in-class speech therapy services at affordable plans.
Our speech therapy clinic in Noida is well-constructed and incorporated all the practices that improve the special children's lives. We only hire experienced and talented therapists who know how to tackle the special child's needs. Since we launched our speech therapy clinic Noida, you will be glad after knowing that we have been practicing hard to give 100% successful treatment results.
Speech Therapy Center in Noida
Blooming Words has become one of the best Speech therapy center in Noida by providing standard and tested therapies to the special children. We understand the emotions of every child. They reach us with a big hope, and we don't let them down. If all things work well, you will see a drastic change in your child. We use creative, interactive,and standard techniques that always keep your child engaged throughout the sessions.
Blooming Words assure you that you will start seeing positive changes in your child by the end of the session. We request all the parents who are thinking to take an assessment test please bring school and medical reports of their children. It helps us to evaluate their behaviour and learning abilities. Once the assessment is done, we will make the treatment plan that suits the child's needs.
If you want us to treat your child's speech disorders, then opt for the early intervention without thinking much. Because as early you opt the faster result you will get. It would be helpful if you participate in the process because you are the only one who is the closest to your child.
Blooming Words realize that many children have the capabilities, but due to developmental disorders, they cannot show in front of the world. We work closely with each child and help them in building confidence.
All parents who wish their children will speak clearly can take speech therapy in Noida. It is the one-stop and standard solution to give the voice to your child.
Frequently Asked Questions
Ans. Well, we decide the duration after taking an assessment test and then share everything with the child.
Ans. Our speech therapy charges are relatively affordable than others. We only take fair pricing from the parents.
Ans. We request you to bring school and medical reports when visiting our speech therapy in Noida clinic.