Language Therapy in Noida
Many children suffer from language disorders; they feel difficulty in putting their feelings into words. Language is important because it is a primary way to communicate with others. Children with language disorders don't know how to read, speak, and write words. This disorder will make their life frustrated and hopeless. A child in trouble is speaking and understanding words must opt for language therapy in Noida. It is a standard golden method to improve the language power of the child.
Language therapy is an assessment and treatment of communication problems and language disorders. It is performed by the language therapists who will assess the child with well-researched, tested, and effective techniques. Language therapy in Noida is needed for language disorders that develop in childhood. The earlier you opt for this treatment, the faster you will get the results.
For your child, language therapy in Noida can be proven as a life saviour because it will make him confident at sharing ideas and thoughts without facing any problem. By the end of the language therapy sessions, your child will have known how to speak, write, and read effortlessly.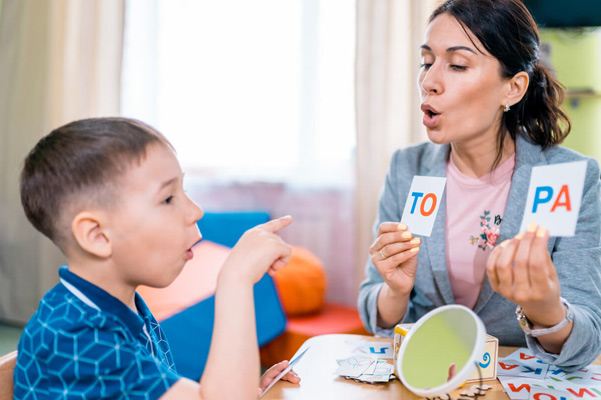 Language Therapy Clinic in Noida
If your child has a language problem, which includes trouble in speaking, writing, and reading words, then without any deal get in touch with the Language Therapy clinic in Noida. We at Blooming Words offer you the best-in-class language therapy. We have a team of qualified, and well-versed language therapists who is readily available to treat your child with extensive care. We realize it is not easy for the parents to live with the child who has a language disorder. That's why we create personalized language therapy sessions that suit your child's requirements. If you seek the reputed and award-winning language therapy clinic in Noida, then Blooming Words is your one-stop-place. This place is only designed for special children. We have been in this field for several years and know how to cater to the special child's needs. With interactive sessions, engaging activities, and personalized classes, we improve their language disorders and make them a confident, and effective communicator.
At Blooming Words, the language therapy in Noida varies from child to child, depending on their behaviour. We ask their parents to bring all their school and medical reports when they come for the initial assessment test. This test helps us to evaluate the behaviour and capabilities of the child. After an assessment test we will plan the treatment that matches with the child's needs.
Our language therapy classroom is neither big nor small; we have designed the space to offer zero-distraction to the child. To remove distraction, we have placed limited things. Our class is colourful,pop up with toys and informative charts.
Blooming Words is an award-winning language therapy clinic in Noida. This is a place for the evaluation and management of children with special needs amongst the children. We offer a wide variety of language therapies for families. Our team members are highly qualified and experienced, and know how to treat language disorders. During sessions, our therapists make a strong emotional connection with the child and make him comfortable so that he can learn with ease.
Every child has unique needs, that's why Blooming words offer 1:1 language therapy in Noida. With our therapy, your child learns how to read, speak, and write words and learn what words will make their communication good. All in all, this therapy will change their life forever and make him a confident person.
Language Therapy Centre in Noida
Blooming Words has achieved a great height by offering the best-in-class language therapy centre in Noida. With full professionalism, hard work, and delicacy, their therapists help us in achieving 100% of parents' satisfaction. We pride our team members, because they always strive hard to extract exceptional skills from the child which are really important to live in this society. If your child is facing difficulty in sharing ideas, and learning things due to language problems, then without thinking much, take him to our Language therapy centre in Noida. We will assist him, find out the flaws, and causes, and treat this problem effortlessly.
We only hired the qualified, educated, and experienced therapists who are very well-versed in handling and managing the special child's needs. Take our 30 minutes free consultation service, and share your concern with us.
Frequently Asked Questions
Ans. The frequency of language therapy varies from child's case to case. We request you to come for the assessment; then we will let you know the complete treatment plan.
Ans. The numbers of hours needed for language therapy vary on a case by case scenario.
Ans. You can either contact us on the phone or share your concern by email.