Language Therapy in Delhi
Language therapy is an intervention method that focuses on improving the children's language disorders, facing difficulty in learning vocabulary, grammar skills, listening skills, questions skills, and a few more.
Children who are unable to learn and speak properly can opt for language therapy in Delhi because it is the one stop place for all the ones who want to improve their vocal power. The therapists are experienced and know to treat children who have language disorders. Suppose your children cannot know when to "How" and "Where" and are feeling difficulty in learning vocabulary. In that case, you should opt for the language therapy center in Delhi.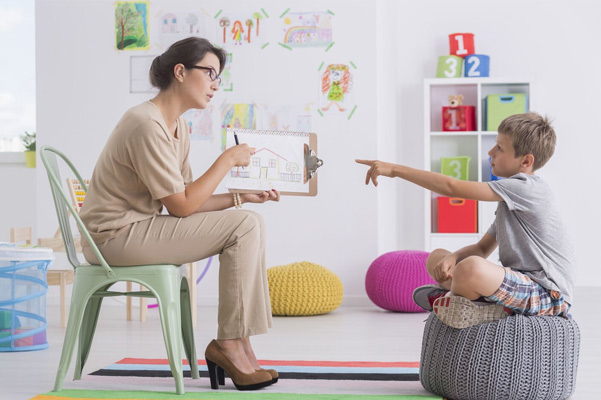 Language Therapy Clinic in Delhi
Blooming Words is one of the most renowned and highly recognizable language therapy clinics in Delhi. They have a team of experienced therapists who know how to treat children with language disorders. With a proper treatment plan and effective activities, they will address the language disorder issues. All you need is to bring your child to our language therapy clinic in Delhi, along with his/her school reports. First, we take him/her into the behaviour observation, analyse his/her behaviour, ask some questions to understand their language problem, and then create the plan that matches with his/her specific needs.
Blooming Words Addresses the Following Language Areas
Listening Skills
: How your child is being able to understand what is being said to her and how he replies.
Vocabulary Skills
: Your child's knowledge of what things are called and her ability to understand those words and use the words in the sentences properly.
Questions skills
: Your child's ability to listen to the questions and answers them correctly.
Social Language Skills
: Your child's ability to use language to interact with others.
Literacy Skills
: Your child's ability to read, learn, and write, such as school books, comics, and stories.
Our therapists work on the above-mentioned skills to address language disorders. They use a variety of technicians to improve the language skills of the child. So, if your child has some language problem, like he is unable to write, or speak complex words properly, then without thinking much, get in touch with the Blooming Words. We are the leading language therapy in Delhi service provider who can treat all kinds of speech and language disorders by using interactive and engaging techniques.
Language Therapy Centre in Delhi
The ultimate goal of Blooming Words to Provide optimal language clinical services to the child that suits his specific needs. If you suspect your child's language development is not the track, we recommended you to consult with the best language therapy in Delhi. At Blooming Words, we have a team of qualified and well-trained specialists who are dedicated to offering the best language therapy services to our clients who welcome us. Each language therapy plan is designed based on the child's personal needs, and all techniques are research-based and tested.
Language disorders are very common in children. If they intervene early, these disorders can easily be addressed. We understand the pain of your child, they want to learn, but they fail. Don't worry, just bring at Blooming Words. Our therapists interact with the child by playing and talking, using movies, novels, stories, and songs to improve his language disorders. They interact with the children 1:1, and also include parents weekly to strengthen the treatment.
Once the initial intervention is performed, and we identify how much your child is weak in learning and speaking, we plan the treatment and start work on it. We will create the best course of action to become an excellent learner, writer, and speaker. So, if you are looking for the best language therapy in Delhi, then feel free to contact Blooming Words. We will mainly focus on improving the child's communicative and speech skills in a holistic manner.
As a parent, if you take the initiation in the child's early age, you will get amazing results in less time.
Frequently Asked Questions
Ans. Speech therapy works on the fluency of the child, whereas language therapy targets the reading, and writing skills, like improving vocabulary, sentence correction, and literacy.
Ans. No. Children who are exposed to multiple-languages will say the words in their first language and then gradually learn the other languages.
Ans. You can either reach the language therapy center in Delhi or take an appointment online. Our professionals are willingly available to assist you round the clock.
Ans. To identify the time parameter, we consider several factors like age, ability to learn things, and school reports.