Language Therapy in Arjun Nagar
Language is important because it's a primary way to speak with others. Many children face difficulty in sharing their ideas and thoughts because of a lack of language skills. They don't know how to comprehend and put the right words in the sentences. With language therapy in Arjun Nagar, your child can improve his vocabulary, academic, writing, social, and learning skills effortlessly. It is one of the scientific-proven ways to accelerate the language skills of the child.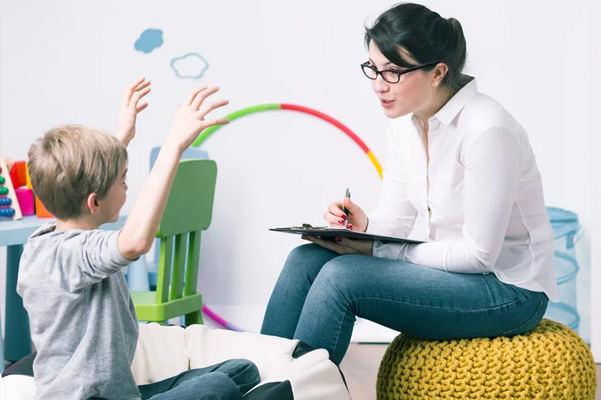 Language Therapy Clinic in Arjun Nagar
Difficulty in language and speech abilities may interfere with social and academic development. Language therapists in the Blooming Words are experts in evaluating and treating children with language disorders. They provide standard and research-based personalized treatment plans that perfectly match the specific needs of the child.
So, if your child is having a language problem, like, he is unable to understand the meaning of the sentences, don't know the grammar rules, and have social anxiety. You should definitely opt for the early intervention. As soon as you take your child for the primary assessments, you will get better and faster results. During the therapy sessions, you can also monitor his/her language therapy. However, our therapists are child-friendly, we encourage parents to participate in the therapy sessions, because children feel more comfortable with them.
Blooming Words believes in the power of practice and consistency. They offer regular therapy sessions to the children. Many children who's IQ are good due to language disorders are unable to achieve good grades in academics and can visit Blooming words, the one-stop language therapy in Arjun Nagar.
We have a team of experienced and highly-qualified therapists who select the one-to-one session and pick activities specific to the child's language needs. To enhance the personalized experience, we ask the parents to have the specific toys ready for the session, explain the activity, and watch them with the child, and after the session, they will give feedback. We also send the reports of the child to the parents to maintain transparency in the therapy sessions.
We are able to offer online consultation over zoom call as well. You can appoint us anytime; our therapists are standing for you. All you need to do is schedule an appointment by filling out a form or calling us. We are readily available to help you with speech and language disorders.
Language Therapy Centre in Arjun Nagar
A development language disorder is the name used to describe the difficulties that some children have with learning and using language. And language therapy is the only standard and scientific-proven method that can improve the child's learning and language skills. At Blooming Words, we have created a calm, relaxed, and playful environment for the child so that they will easily grab the things. We give enough time to the children to communicate, because in rushing their language disorders get worse.
Language therapy can be really helpful for children who want to improve their grammar, academics, and social skills. With this therapy, they can easily overcome their language difficulties. We understand your emotions and concerns, that's why we offer language therapy in Arjun Nagar at cost-effective charges.
All our treatment plans can be tailored as per the needs of the child. If you have any concerns about your child's language disorders, then get in touch with the Blooming Words. We would be happy to meet with you in order to discuss the services that we are able to provide.
As a reputed and certified language therapy in Arjun Nagar specialist, we specialize in the provision of speech and language therapy for children. We work closely with the parents/ carer to fully assess the child's needs. Our specialists provide services in the form of assessments, reviews, and regular interaction sessions.
If you are looking for a highly credible language therapy centre in Arjun Nagar, please contact us anytime. We are happy to help your child regarding speech and language developmental disorders.
Frequently Asked Questions:
Ans. Speech and language therapy is concerned with the management of disorders, like, stammering, speech, language, and swallowing. At Blooming Words, we specialize in the provision of speech and language therapy for children up to 18 years.
Ans. You can either contact us via email or schedule an appointment on the phone. One of our consultants is readily available to assist you round the clock.
Ans. The frequency of language therapy varies from child's case to case. After the initial assessment, we will let you know the complete treatment plan.