Language Therapy in Ashok vihar
In children, the language disorders in any form, stutter, or unable to understand and put words together. Since all kinds of language disorders can make a child isolated and under-confident, it is imperative to opt for early intervention. At, Blooming Words, our dedicated team of therapists handle a wide range of speech and language disorders across all age groups. They help children communicate and learn things better and improve their confidence through interactive learning sessions.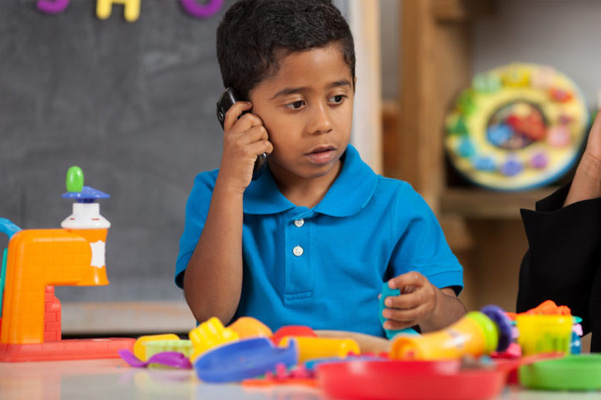 Language Therapy Clinic in Ashok Vihar
Our personalized approach includes addressing the child's needs, thereby building a relationship of trust and communication with them. To ensure the maximum benefits, all our treatments are designed by keeping children's specific needs in mind. If you are looking for a reputed and highly recognized language therapy in Ashok Vihar, please contact us. We are one of the foremost language therapy service providers in Delhi, who aim to provide global standard treatment methods to all our clients. We strive to offer the most effective and easy-to-learn learning techniques and fun providing experience.
If your child cannot comprehend the sentences and face difficulty in learning new words, he/she will probably need language therapy in Ashok Vihar. Blooming Words achieve great results by providing in person intervention and training consistently. To strengthen the treatment, we also involve parents, since they are the only ones who are very close to our clients. Even after treatment, clients who shutter will get the sessions online to eliminate this problem permanently.
Our language therapy clinic Ashok Vihar sole purpose is to provide a high standard of treatment methods that helps us achieve 100% satisfactory results. Our specialists are highly qualified and have extensive years of experience in delivering speech and language therapy sessions.
In an initial assessment, we gain an accurate picture of your child's needs and then create the treatment that matches his specific needs. Along with that, we also review his school reports to evaluate his academic performance.
At Blooming Words, we work closely with each client to know his requirements and try to provide everything that makes him a confident writer and speaker. After our treatment sessions, your child can read, write, and speak the sentences correctly. You are a parent/carer will play a key role in the therapy, so we also instruct some guidelines that you need to follow.
Language Therapy Center in Ashok Vihar
Blooming Words believes in early intervention and consistent therapy sessions to ensure that children make the most progress possible, and we strongly believe in the child and -family-centred approach. We have a team of highly talented and experienced professionals who can deal with any age of child effortlessly. Along with language therapy in Ashok Vihar, we also provide speech therapy, and treatments to the autistic children. Our language therapy clinic can be found in Delhi at multiple locations, like Ashok Vihar, Arjun Nagar, Gurgaon, and Indirapuram. If you are looking for the best language therapy center in Delhi, contact the Blooming Words nearest clinic.
Without a doubt, language is absolutely central to your learning; your child cannot make sense of and communicate with others. Blooming Words aims to improve the children's language skills so that they can communicate verbally and non-verbally effortlessly. So, schedule a free inventory consultation with us today. Our therapists are standing by.
It is always great to take the guidance of someone who knows so much about language skills. Our therapists are highly qualified and guide your child in the best possible way. We have made a renowned name in this industry by offering guaranteed results. People appreciate our professionalism, and never forget the efforts that we give during the training sessions.
Frequently Asked Questions:
Ans. Blooming Words sees its clients at various branches, like Ashok Vihar, Arjun Nagar, Gurgaon, Indirapuram, Noida, and consult online. You can choose the center as per your convenience. It will be time-saving if you schedule an appointment on the phone before visiting our clinic.
Ans. Going to your first language therapy session can be a challenging task for your child. But, Blooming Words will make it easy by providing fun and engaging assessments. You and your child might be anxious, but don't worry, all our therapists are friendly and understand your emotions.
Ans. We decide the length of the treatment after the assessment. Once we know the accurate picture of your child's language abilities, then we design the treatment plan.
Ans. Parents are the closest to their children; if you join the treatment sessions once a week, it will affect the results.