Language Therapy in Gurgaon
Language therapy is a broad term which is used to treat several kinds of developmental delays or disorders. If a child has a language disorder, like he/she cannot speak, read, or write sentences correctly, she can attend the language therapy in Gurgaon. This therapy addresses speech and language disorders and builds confidence. The specialists use a variety of techniques to help teach your child a skill, including pictures, verbal reminders, etc. If you are looking for a renowned and reputed language therapy in Gurgaon, then get in touch with the Blooming Words. We have a team of highly experienced and reputed professionals who treat social-communication disorders and improve the language skills of the child.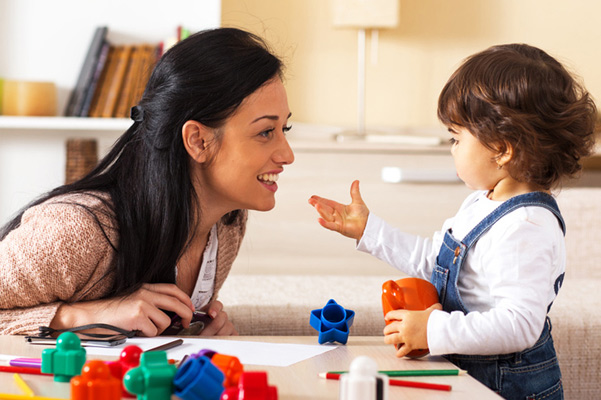 Language therapy addresses children with delays or disorders in the following areas:
●
Listening Skills
: How your child is able to understand when someone speaks to him/her.
●
Vocabulary Skills
: Your child's knowledge of what things are called and her ability to understand the words and use them in the sentences.
●
Questions Skills
: Your child's ability to ask questions and respond properly.
●
Social Language Skills
: Your child's ability to use language to interact with others and follow social rules of conversation and play.
●
Literacy/ Books Skills
: Your child's ability to read and write or use pre-reading skills such as books handling, recognizing print etc.
Language Therapy Clinic in Gurgaon
Now that, you understand the importance of language therapy in Gurgaon for development disorders children. If your child has trouble understanding the words, hear or read then you should definitely opt for the language therapy. Our learning techniques are fully engaging, entertaining, and effective. We asset every child closely and recommend the best treatment plan that matches his needs. We understand the pain points of the child who experiences trouble in explaining and understanding things. We advise you to opt for the early intervention if your child has a language disorder. Because the earlier you opt for the treatment, the faster he will recover. By the end of the sessions, your child will understand what people say, and respond to them perfectly. We have been in this business for several years, and we truly understand your concern towards your child. The language therapy in Gurgaon is the one-stop solution for the child who has trouble speaking, reading and learning.
A child who is unable to express his thoughts feels under confident and introverted. We know you want your child to be confident, and expressive, that's where we are here. Blooming Words is the top language therapy clinic in Gurgaon, that has a proven success record. Our therapist will diagnose your child according to their deficits.
Our session starts from an assessment test. In which we evaluate the behaviour and learning capability of the child. We also review his/her school and medical reports that help us in making an effective plan. Once we create the plan, we will teach the child accordingly. We measure the performance of every child and customize the plan as per their performance. So, if you want us to improve your child's learning abilities, get in touch with us. Keep in mind; early intervention often plays an important role in successful outcomes.
Language Therapy Center in Gurgaon
Are you looking for a language therapy center in Gurgaon? If yes, then your search ends here. We have been in this business for several years and we know how to deal with the child. If your child has trouble telling stories, using words correctly, using gestures, singing songs, and naming objects, Blooming Words is your place. Our healthcare providers will ask your child's language use and look at his/her school and medical history and evaluate his capabilities during play. Our specialists will create a calm, playful, and relaxing environment to treat your child and communicate with his politely. They use toys, books, and objects to help with healthy development. They also practice the child by asking questions and request him to do some craft. To engage your child throughout the sessions, we do everything. If you think that your child has a language problem, then talk to us right away. Blooming words offer you language therapy in Gurgaon at cost-effective charges. We have a large language therapy center in Gurgaon that is built on the foundation of professionalism, trustworthiness, love, and support. You can call us anytime, one of our professionals is readily available to assist you in the best possible way. If you are worried that your child will be bullied because of this developmental disorder, you are wrong. If you opt for the language therapy in Gurgaon and get the best treatment for your child, he will become confident enough to deal with the others.
We assure you that your child will speak clearly, slowly, concisely, and doesn't face any kind of anxiety after the end of the session.
Frequently Asked Questions
Ans. The treatment duration of language therapy in Gurgaon depends on the catching power and capabilities of the child.
Ans. You can contact us by sharing email or directly call us at our number.
Ans. Yes, we do after the end of every session we email the report to the parents.