Speech Therapy in Ashok Vihar
Many children have speech disabilities that include pronouncing words, language development, fluency problems, and other voice problems. Speech therapy is an effective treatment that is used to improve a child's speaking abilities. The speech therapist leads it, also called a speech-language pathologist.
Speech Therapy Helps with Following Problems:
● Articulation Problems: Not talking obviously and making blunders in sound.
● Fluency Problems: Unable to speak speech fluently.
● Resonance or Voice Problem: Trouble with voice pitch.
● Oral Feeding Problems: Difficulty with eating, gulping, and slobbering.
Children who have language problems must visit speech therapy in Ashok vihar. Blooming Words is a leading speech therapist clinic in Delhi that can improve the kids' speaking skills and encourage them to speak fluently. We have a team of talented therapists who will give you activities to practice at home with parents to strengthen the speech therapy sessions. Our therapists don't only assess and treat for articulation, but also focus on swallowing and feeding.
If you are concerned about your child's speech issues, you should take an appointment with the best speech therapist clinic in Delhi. Blooming Words have years of experience in treating speech and language disabilities. We have experts who use best techniques,like flashcards, music, toys, and other interesting techniques to treat voice fluency problems or abnormal speech.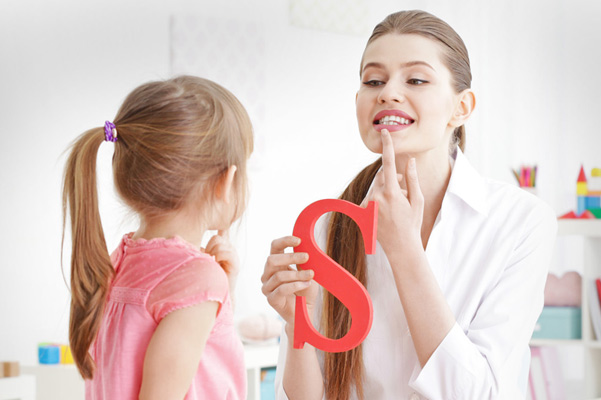 Speech Therapy Clinic in Ashok Vihar
Blooming Words think early attention to the core behavioural symptoms will give your child benefits, like it prevents, reduces, and relapses the disease's emotional and financial burden.
Blooming Words' goal is to detect the behavioural problems, eliminate the causes, and improve the child's vocal skills. Our speech therapists have years of experience in treating the symptoms of the communication of the child. We use fun, exciting, and interesting activities during therapy sessions and always being polite to the children. If you are looking for the renowned and reputed speech therapy clinic in Ashok Nagar, Blooming Words is the only clinic. But it is designed on the edges of trust, professionalism, care, and reliability. The level of care and professionalism you will see in our therapy sessions will take your expectations to the next level.
Depending on the speech problem, our speech therapists recommend and design the action plan that your child follows up in the home and school. To strengthen the therapy sessions, we also involve the parents/ school staff to share everything about the child and analyze the improvement.
Speech Therapy Centre in Ashok Vihar
Have you noticed a speech problem in your child? Don't panic; Blooming Words is there for you. Just come to our speech therapy centre in Ashok Nagar, and share your concern and difficulties that your child is facing right now. We first listen to your thoughts and then assess your child for behavioural analysis. Once we get all the information about your child, we will take him for behavioural analysis to know the cause of the problem. After that we will create an action plan that meets the desired goals of the child.
By the end of the speech therapy sessions, we promise you will start seeing the changes in your child, like he/she will succeed in speaking fluently, expressing his/her opinions, and feeding food properly, and communicating with everyone clearly.
Unlike other speech therapists, we usually meet with parents once in a week to share the child's progress report. We have years of experience in treating speech disabilities, we know how to deal with the kid who is unable to speak. With proper care and fun and motivational therapy sessions, we teach everything to them effortlessly.
Your child wants to share his/her thoughts, and we understand. With some professional guidance and attention, you can make that happen. To all parents looking for speech therapy in Ashok Vihar, get in touch with us.
Frequently Asked Questions
Ans. These are the symptoms of the speech disorder if you have noticed below mentioned symptoms in your child you definitely opt for the best speech therapist:
● Repeating sounds.
● Extra sound in words.
● Elongating words.
● Making jerky movement while talking.
● Fumble while speaking
● Unable to speak difficult words.
Ans. Speech therapy in Ashok Vihar clinics like Blooming give a choice to the parents to attend therapy sessions with their children once in a week and analyze the progress. They also give some homework to the kids that is needed to be done with their parents.
Ans. Please bring all the child's prescription letters, his/her report cards, and all valuable information that can help you design the action plan for him/her.
Ans. The length of the treatment is dependent on the complexity of speech disorders.